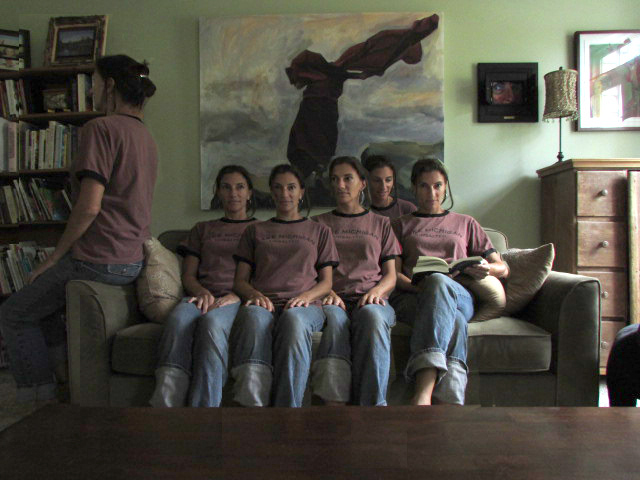 Lindsay Heider Diamond double majored in both painting and graphic design from Miami University in Oxford, Ohio and has worked as a professional greeting card illustrator, graphic designer, art director and creative director on both coasts. For the last 15 years, she has taught art to children, created book covers a

nd interiors for independent as well as incarcerated authors, continued a fine art practice and is now also writing and illustrating children's books. A long held interest in mindfulness, growth and being of service to others influences much of her work. Having lived coast to coast, abroad and many places in between, she currently lives in Charlottesville, VA with her author/software engineer husband, Andrew Diamond, three kids and two dogs. She is a current resident at McGuffey Art Center. 
When I have been affected by an experience, I want to express it somehow. Much of my work is an investigation and experimentation with translating experiences and emotional states into a visual that others can witness. I strive to find clearer ways to explain what I see and feel.
Rocktown Art:s "6x6x30" Juried show - Wild Emotions / Soft Medium, Harrisonburg, VA - *SECOND PLACE
The Center at Belvedere "Black and White" Invitational Show, Charlottesville, VA
McGuffey Art Center: Interiors/Associates, Charlottesville, VA
Second Street Gallery: "Teeny Tiny Trifecta IV",   Charlottesville, VA
McGuffey Art Center: Member Show McGuffey Art Center, Charlottesville, VA
McGuffey Art Center: Holiday Show, Charlottesville, VA
Lynchburg Art Festival, Lynchburg, VA
Belvedere Art Walk, Charlottesville, VA
Poets & Artists Juried Selection for "Shelter" publication:  33 Contemporary Gallery, online
McGuffey Art Center:  Member Show, Charlottesville, VA
Teeny Tiny Trifecta III Juried Selection: Second Street Gallery, Charlottesville, VA
Rockingham Fine Arts Association Juried Selection: "6x6x30", Harrisonburg, VA  *HONORABLE MENTION AWARD
Fine Some Art Show, Charlottesville, VA
Poets & Artists publication Juried Selection "Gaze" GOSS 183 publication, Issue #107 
HerSTORY - Manhattan Arts International Juried Selection - AWARD OF EXCELLENCE
MPA "Stricly Painting 12" Regional Juried Selection, McLean Project for the Arts, McLean VA
McGuffey Art Center Annual Summer Show, Charlottesville, VA 
FUCC (Feminist Union of Charlottesville Creatives) Group Show, Charlottesville, VA
"Self & Other" SOLO Show McGuffey Art Center, Charlottesville, VA
Teeny Tiny Trifecta II Juried Selection: Second Street Gallery, Charlottesville, VA
"FUCC Group Show"@City Space, Charlottesville, VA 
"6 X 6 X 30" Juried Selection @Spitzer Art Center, Harrisonburg ,VA 
FUCC (Feminist Union of Charlottesville Creatives) Group Show at City Space, Charlottesville, VA
Teeny Tiny Trifecta I Juried Selection: Second Street Gallery, Charlottesville, VA
"The Female Collective" SOLO show @ Dovetail Gallery, Charlottesville, VA 
McGuffey Art Center Holiday Members Show, Charlottesville, VA 
McGuffey Art Center Annual Summer Show, Charlottesville, VA 
"6 X 6 X 30" Juried Selection @Spitzer Art Center, Harrisonburg ,VA 
Face to Face: Portraits of our Vibrant City 2017 Juried Selection:  The Bridge Progressive Arts Initiative, Charlottesville, VA
McGuffey Art Center Holiday Members Show, Charlottesville, VA 
McGuffey Art Center Annual Summer Show, Charlottesville, VA 
McGuffey Art Center Flight Show, Charlottesville, VA 
Central Virginia Watercolor Guild's 25th Anniversary Juried Selection, Charlottesville, VA 
South-Atlantic Juried Selection, Montpelier Center for the Arts, Montpelier, VA 
McGuffey Art Center Annual Summer Show, Charlottesville, VA 
McGuffey Art Center Holiday Members Show, Charlottesville, VA 
South-Atlantic Juried Selection, Montpelier Center for the Arts, Montpelier, VA 
McGuffey Art Center Holiday Members Show, Charlottesville, VA 
McGuffey Art Center Annual Summer Show, Charlottesville, VA 
McGuffey Art Center Holiday Members Show, Charlottesville, VA 
McGuffey Art Center Annual Summer Show, Charlottesville, VA 
McGuffey Art Center Holiday Members Show, Charlottesville, VA 
McGuffey Art Center Annual Summer Show, Charlottesville, VA 
"Voyeur In The Kitchen" Solo Show @Chroma Art Gallery, Charlottesville, VA 
McGuffey Art Center Holiday Members Show, Charlottesville, VA 
McGuffey Art Center Annual Summer Show, Charlottesville, VA 
McGuffey Art Center New Member Show, Charlottesville, VA 
McGuffey Art Center Holiday Members Show, Charlottesville, VA 
Wyoming Art Show, Wyoming, Ohio 
AIDS Silent Auction Bastyr College, Seattle, Washington
"Three Young Women Show" Main Street Gallery,  Leeland, Michigan 
Greater Hamilton Area Art Show, Hamilton, Ohio 
Senior Show, Oxford, Ohio 
B.F.A. Show, Oxford, Ohio 
Miami University, Oxford, Ohio
Member of McGuffey Art Center Charlottesville, VA 2010-present
Member of Society of Children's Book Writers and Illustrators 2020-presen
Freelance Graphic Designer, Illustrator, Fine Artist: 

 Charlottesville, VA 2006 -present
Art Teacher

: The Village School, Charlottesville, VA 2012 - 2020
Art Teacher:

 Community Homeschool Enrichment Center, Charlottesville, VA  2010-2011
Freelance Creative Director, Art Director, Graphic Designer, Illustrator: 

 Seattle, WA & Portland, Oregon 1992-2006
Creative Director, Graphic Designer Digital Media:

Caribiner International, Seattle, Washington 1998-2000
Creative Director, Graphic Designer:

  Fusion Interactive, Seattle, Washington 
1997- 1998
Art Director, Graphic Designer Digital Media

: Watts-Silverstein & Associates, Seattle, Washington 1994-1996
Illustrator:

Represented by Donna Jorgenson Artist Representative, Seattle, Washington 1993-1995
Illustrator:

Gibson Greeting Cards, Cincinnati, Ohio 

1990-1995